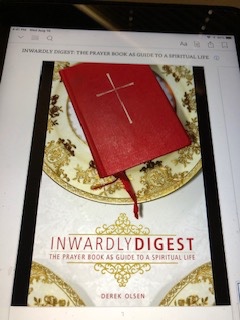 One of my current pursuits is to develop a more spiritual path in catechumenate ministry. I am looking for personal guides as well as those that I can use in the catechumenate. Inwardly Digest caught my attention because of its twofold subtitle reference: the prayer book and spiritual life. I thought it might help me be able to better use the Book of Common Prayer in guiding catechumens and candidates.
There are some parts of the book that I can see in this way, for example, "The Spirituality of the Prayer Book System" and "The Basic Principles for Liturgical Worship." However, much of the book teaches about the BCP. It explains the structure and significance of the Church Calendar, Daily Office and the Holy Eucharist rather than guide the reader through meditations on each of these. After reading this study of the BCP, I am in a better place to promote it to our catechumens and especially our candidates as a tool for personal prayer.
Two years ago we had a candidate who devoted herself to reading the lessons of the day. If I had read Inwardly Digest before she joined the catechumenate, I would have been able to offer some guidance on how she might enhance her prayer life by expanding her commitment to read the daily lessons. On the other hand, I would not want to overwhelm her or any one drawn to find prayer and spirituality in and through the BCP. For me, the value of Derek Olsen's work is to enhance my own knowledge and appreciation of the BCP so that I can use it as a prayer guide for our candidates. For example, because of his section and comments on the Collects, I will seek some of those for prayers before our meetings or for other times when one or the other of those seems pertinent. Interestingly, he did not spend any time on the "Prayers and Thanksgivings" section of the BCP. Those can be a rich source of prayer and spirituality for anyone who uses them or reflects upon them.
In terms of my own spirituality, The Collect for Purity is becoming what Olsen calls "a gem of Anglican devotion." Since I first heard it and prayed it, this collect has been a favorite of mine. It took Olsen to push me to make it my own. I will share it with the candidates in one or more of our meetings.
In general, I will not put Inwardly Digest in my collection of spiritual books and guides. I will keep it in my collection of books on the liturgy. If I teach the "Introduction to Worship and Prayer" again, it will be a good source book for that course.